It has been one year since my first visit to Bsides (Community driven IT security conference) in Ljubljana. You can read about my impressions and opinion in this article. At that time I mentioned, that Bsides is a conference, where many good presentation can be expected and also this year I can only repeat my statement, but need to add, that 2019 edition was even better!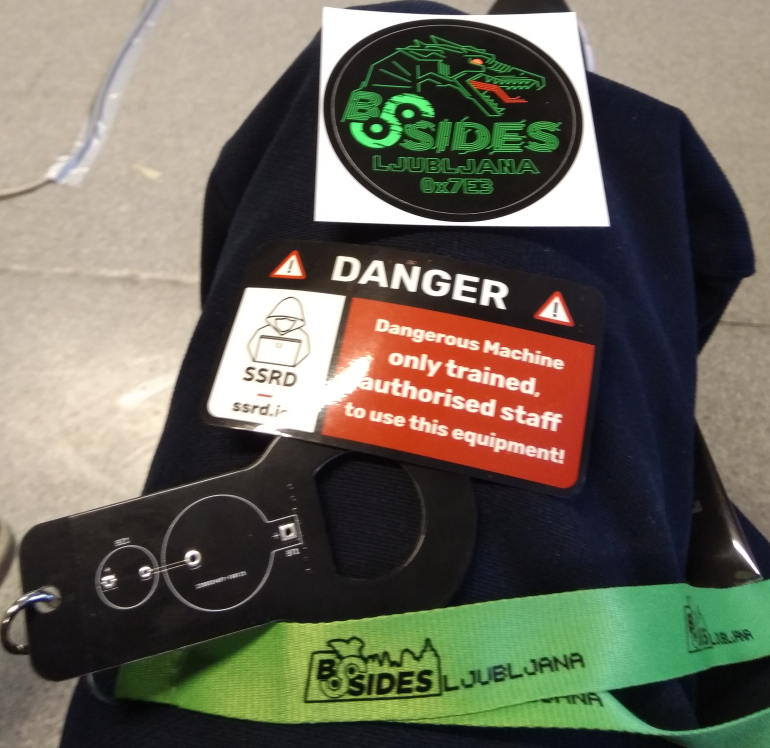 2018 vs. 2019 edition
This year I will not compare 2 different conferences, since they are prepared for very different audience. But I will go through my observations and point out, what improvements I have seen.
This was actually already 5th edition of the conference in Ljubljana and it was organized and executed flawlessly. I have seen many improvements, but let me mention here 3 best picks:
Capture The Flag (CTF)
Last year participants were complaining, that there was no CTF competition. Organizers seemingly took this complaint very seriously and this year team from Viris prepared amazing game. I was personally not taking part, but was observing very closely, what different teams were doing. I have noticed already at very beginning, before I actually registered, that there is something going on. There were QR codes to be seen everywhere and they were actually very important. QR codes, when combined, were offering first clue for Wifi access. I have also noticed, that organizers were carefully observing all "hacking" teams, their progress and were carefully giving additional clues throughout whole day.
If you were careful enough, you could see several teams at once heavily engaged in hushed conversation and staring into each others laptop and showing some new finding. Sometimes it even happened, that conversation was carried away and team members did not notice, that presentation just started in the same room.
Whole game took about 5 hours and thanks to organizers, there was only one small glitch. One team managed to disable one video camera with DDoS-ing it, though it was not meant to be so. It took took organizers less than 5 minutes to recover!
There is one more thing, that speaks how good the game was organized… Despite many competing teams and very professional competitors with many year of experience, no team was able to capture the last flag! I can only congratulate CTF organizing team for this! All respects.
Quality of presentations
I mentioned, that above all, Bsides can be praised and welcomed for the knowledge and experiences of presenters, who are delivering very high quality of presentations. I could not hope, that this year it could be even better. It was. This year percentage of mediocre presentations was very near zero and all the rest very of the prime quality.
I was especially blown away by the presentation titled "Getting ahead of elliptic curve" by Martijn Groote, who has stunned me with simple explanation of applied mathematical principles in IT security field. I had to listen very carefully and had to process every word Martijn said (and he speaks very fast; something like 1.5 factor of normal people). Results are many "aha" effects. This was for me single best presentation I have seen in recent years. There is recording available here and I dare you to check it out. Take care, that you are well rested, before you start listening 🙂
Food and beverages
I did not talk much last year about the quality of the food at Bsides, but organizers must have really read our anonymous evaluations and have done extra mile there as well. This year lunch came in 2 waves, what was very welcome, since it meant that we had all the time fresh and warm food. They also took extra care for dietary preferences and specialties of some participants. You can always expect vegetarian food nowadays, but gluten-free food is not that obvious.
Conclusion
I am very glad, that I came back to Bsides this year. Thanks to my colleague (who got me a ticket when I was out of the country), I was again surprised how much you can learn in just one day of being part of great community. I suggest you to keep an eye for tweeter announcements and take care that you are one of 200 participants, who are lucky enough to get tickets.
Stay curious and never stop learning!