As you might already know, I put more focus into IT security in last couple of months. So besides looking for IT technology conferences and gatherings, I have also started to look around for conferences with emphasis on IT security. So I had opportunity to visit 2 of the in this month. First one was BSides Ljubljana, which is prepared by community enthusiasts, while second one Risk Conference 2018 is commercial conference prepared by Real Security. Despite obvious differences in budget, I cannot stop myself comparing them.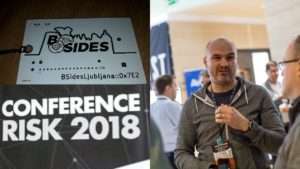 Size and participants
It is in fact not really fair to compare both conferences by size. Bsides holds about 190 participants, while Risk Conference had more than 400.
Risk Conference has much wider support from sponsors and commercial companies and besides sponsoring, they also bring many of their customers to the conference. Additionally Risk Conference was 2 day conference and you had much more time to talk to participants, presenters and sponsor representatives. Due to number of participants, I was able to find several people to talk to and also quality of the lectures helped here.
On the other site Bsides has much cosier atmosphere, where a lot of people know each other and they are willing also to come many miles to visit conference and meet peers. So I observed nearly half of participants coming from abroad. Funny fact is, when you have a mix of several nationalities, you have more chance to learn something new, get different point of view onto your problem and generally learn more.
Verdict: Risk Conference is bigger and has more opportunity for geek talk, but Bsides offers higher quality
Venue and show
BSides venue was in building of startup community at Tobačna ulica in Ljubljana, where chairs are missmatched, everything is simpler and this way much more relaxed. If you are early in lecture room, than you have better chance to get better and more comfortable sitting :). At BSides we cannot really talk about show and all you can hope for, is dependent on presenters, who often have several aces up their sleeve.
On the other site Risk Conference seemed to me all about the show. Conference is placed into beutyfull hotel in Spa hotel of Laško, where all was fully matched, presentation were shown on huge and high quality beamers. It all started with eye catching (and piercing) laser show and skilful show by flying basketball acrobats Dunking Devils, whole main happening was moderated by native English speaker Chris and all lectures were interrupted by attractive hostess, who was carrying huge 5 minute reminder and stole all attention from audience.
Verdict: Risk conference has more fancy venue and offers more show
Quality of lectures
Risk conference has great show, as I mentioned above, but it is unfortunate, that it goes on a cost of lecture quality. Pretty looking ladies are interrupting even those few good prepared and technically more advanced presentations. The only way to get some deeper technical information was to get a hold of presenter after his/her presentation and ask questions that you wanted answered.
Bsides was (to my delight) quite opposite. Lectures were on very high level and every lecturer dove deep into technical details (ok… there was one exception), what satisfied my urge for deeper understanding of technology. There was also not a problem catching lectures after their presentation and ask them additional questions. In fact, you could also get a good answer from many participants, what shows, that Bsides is more than conference, it is a community of pretty advanced presenters and participants.
Verdict: Bsides has much better quality of lectures
Food and beverages
I know, that food is not something you should look at conferences, but unfortunately it is integral part. Both conferences were short enough, that whatever food would be there would suffice (as long as it is edible 😉 ).
So there is not much to compare. Both conferences had sufficient food and beverages available, just at Risk Conference you could get healthier food.
Verdict: Risk Conference has healthier food
Value for the money
Since I am not privileged to view into budget of either conference, I am guessing here. In my opinion Risk conference costed much more per participant as Bsides. And if I look from my perspective, where content is more appreciated as show, I have here clear winner.
Verdict: Bsides offers higher value for the money
Personal preference
I was fortunate enough, that I was able to visit both conferences. There are things, that I could find valuable on each of them and so I can say that my time was not put to nothing.
Verdict: If I had to choose just one of 2, I would have no problem deciding and would gladly visit only BSides
Conclusion
If I conclude my evaluation and comparison, I would still have few suggestions for both of conferences.
Risk Conference:
– I have nothing against show, but please think about interrupting good lecturers and let them do their job. Some of us are actually looking for a quality content at the conferences
– Keep bringing good engineers from partnering and sponsoring companies to the conference. They are your hidden value, source of valuable information and great discussing partners.
Bsides:
– I would wish, you could get more sponsors for your conference. I actually did not miss much there, but at least beamers could be of a better quality, so that we would not need to shut down all light next time.
– Keep attracting good presenters and I also hope next time at least few local ones will dare to contribute.
Stay curious and never stop learning!